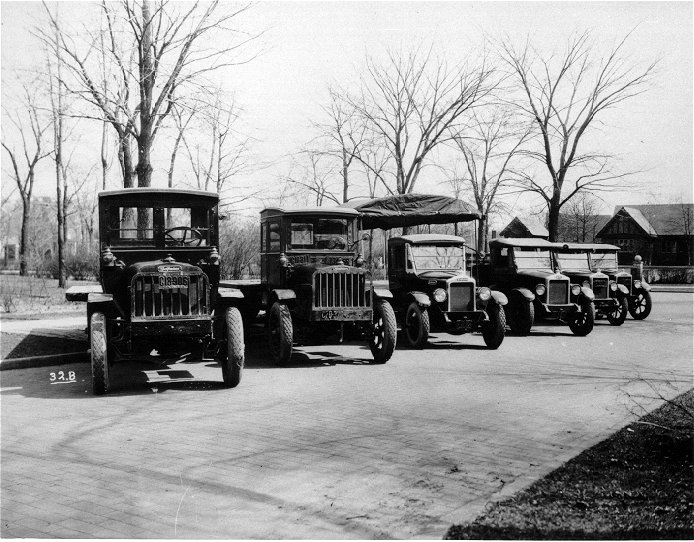 Photo#32B
This likely was Benjamin Gotfredson's fleet of trucks, though there does not appear to be any company markings on any of these vehicles. The first two (probably 100 series -- 5 ton) trucks from the left of the picture are 1922 or 1923 Gotfredsons. The cab on the far left has a split windshield and its door probably fold up into the roof.
Out of all the trucks, the second one has the only Michigan plate. The third truck from the left is probably a fairly new 1924 model. The paint looks new. It is a 50-51 series -- 2 1/2 ton. It has solid disc metal rims generally associated with a larger model truck. I believe this is the identical truck which is in photo 34B transporting 4 finished bodies. The fourth truck from the left is probably a 1922, 31 series or 1923, 40 series 2 ton. It has the older convertible style roof. The paint and front aluminum windshield supports appear to be weathered. Also the tires are larger balloons which gives the impression that they may have replaced older rims and tires (probably they were solid rubber). The radiator is the only GTC in the photo, showing the older 1922 component.
The last two trucks are difficult to determine, perhaps1923-1924 30 series 1 ton. This photograph was taken on Devonshire looking back at part of the church. It is the only photo so far which shows us where the photographer stood for most of his shots. It is also only 3 or 4 blocks from the Walker Road plant. In this photo the factory is out to the left.
---

Back to Gallery main page
Copyright © 1998 David Gotfredson