HISTORY
---
1993 Gotfredson Roster
by
Ed Thornton
Benjamin Gotfredson was born on a farm in the state of Wisconsin. Before finishing his schooling, he entered business with his brother running an agency for farm implements. This business of selling implements and hardware was established at Cooperstown, Wisconsin, approximately twenty miles from a railroad. Horses hauled all merchandise over very rough roads. Later, they established other stores in Green Bay and Seymour, Wisconsin. This business grew to very large proportions and Mr. Gotfredson later founded the Gotfredson Brothers Hardware Company, a wholesale hardware and jobbing business that was later sold to the Morley-Murphy interests, and developed into the largest business of its kind in the mid-twenties in Wisconsin.
In 1905, Benjamin moved to Detroit buying and selling horses on a large scale under the name Gotfredson Horse Market, before the automobile drove the horse from the streets. Early in the automotive industry, Mr. Gotfredson recognized the need for accessories, good trimmers and painters. His business grew from modest beginnings in 1909 -- on Meldrum Avenue, Detroit -- to form the American Auto Trimming Company. Together with the American Auto Trimming Company Ltd. of Walkerville, Ontario incorporated in 1911; and the American Auto Trimming Company of Cleveland, Ohio founded in 1916; and later another in Los Angeles, California; it became one of the largest paint and trim companies in North America by the twenties. The company set up shop in cities where major car building and assembling took place.
Since Ford took over the mass production line from Oldsmobile and their curved dash in 1906, the car manufacturers concentrated on cars for the masses. Ford would out produce the competition by several hundreds of thousands in the teens and over a million units annually by the twenties.
In the teens and twenties, several automobile manufacturers were content to pay specialty shops to paint, finish and trim their coachwork. The sheet metal would be formed over the wooden framework. Anywhere from five to eight hours were spent on each body in order to perfect the sheet metal surface with files and emery paper before primering. On the cheaper models, the steam and hot water wash method was used; or on the more expensive bodies, sandblasting at low pressures in preparation for the paint shop.
The controlled condition primer, glaze and spot putty air drying probably would have taken 24 hours. The various stages of hand painting, hand rubbing, color and color varnish applications with more hand rubbing between certain coats until final coating is achieved would probably take a few more days. The finishes were slow drying and huge buildings were required to house the freshly finished bodies. Keep in mind that Duco finishing did not come about until 1925-26. We also must not forget the interior trim work. On the average, the painting schedule would take five to seven days for a regular car, and almost a month for the more expensive automobiles. Storage space was a definite problem.
In Canada, the firm operated a big plant at Walkerville (now Windsor) to paint and trim Model T bodies for the Ford Motor Company of Canada, with a second plant in Toronto doing related work for Ford. Tax Figures show that the main building was assessed at $35,000 and the 100-foot by 290-foot frontage property was valued at $2,000 in April of 1913. Business assessments were at $22,200 showing total assessments of $59,200 under the name American Auto Trimming Company Ltd. Directly next to this parcel was a 207' 4" vacant lot valued at $4,153 owned by the American Auto Trimming Company.
The original structure, familiarly known as the "basket factory," soon prove too small to accommodate the business the firm wanted to handle, so it was deserted after the firm build on the adjacent property. May 14, 1914 shows the building on the original 100-foot frontage now worth $50,000, although the property value remained unchanged at $2,000. Business assessments were at $31,200 showing total assessments of $83,840. Although the parcel on the 207' frontage had not changed it now had a building assessed at $10,350 on it, proving the fact of steady growth.
As a note of interest, Gotfredson also added to his list of achievements by serving as president of the Saxon Motor Car Corporation between 1918 and 1919.
A lot of trucks were involved in collecting the bodies "in white" from the bodybuilders and manufacturers, to take them to American Auto Trimming's plant for paint and trim, then return them for mounting on the manufacturers' assembly lines.

Nelson Brownyer, Gotfredson's head engineer from 1921 to 1925, recalled to journalist Rolland Jerry that the whole operation depended on trucks. "There was a constant stream of vehicles to and from these plants for the transport of bodies, either unfinished and in need of paint and trim, or finished and ready for the chassis. The traffic was heavy most of the time."
So enters the reason for the Gotfredson truck. Just after WW I, American Auto Trimming Company Ltd. needed some new trucks for its Canadian plant serving Ford. As Mr. Brownyer commented, "New trucks were very expensive in Canada with the high import duty, since they came from the United States." So the company reasoned that if trucks were too expensive to purchase, why not build a few of its own.
I was sound reasoning. Trucks at that time were so simple and fundamental that any good mechanic could assemble one from stock components. And that is what happened." American Auto Trimming employed a very good master mechanic at the Walkerville plant, and he said there would be no problems in assembling half a dozen or so trucks to meet the company's needs," Brownyer recalled. "He just went across the river to Detroit and picked up his engines from Hinkley, a few axles from Timken, and whatever else he needed. McCord had a radiator plat nearby at Walkerville, Ontario; and the frames came from the Canadian Bridge Company.
The trucks were assembled in a corner of American Auto Trimming's big Walkerville plant. "They worked out as well as any trucks the company could have bought on the open market," Brownyer added. "So, it was decided to build a few commercially for Canadian customers."
Gotfredson dared to launch this new truck during the period after the World War I (years that held little for the industrial infant) when many of the long established truck companies Were terminating their careers. This called for business courage of the highest sort. He was looking well ahead and saw the inevitable rebounds of the business world and proceeded to meet them.
We believe that the original batch was built in the early summer of 1920. The first units for commercial sale were named the "G & J" after Benjamin Gotfredson and Frank Joyce, heads of American Auto Trim. See photo and article from June 1, 1921.
The new Canadian truck operation was called Gotfredson & Joyce Corp. Ltd. Tax wise, the company in late 1920 and early 1921 was renting garage space a couple of lots away and had a business assessment of $4,970. The date shown was Sept. 21, 1921 (obviously compiled earlier) and the original American Auto Trimming Company Ltd. (AATC Ltd.) 100 foot frontage now had a property value of $2,600; a building value of $60,000; business assessments of $37,560; and total assessments of $100,160. The five story new plant on the 207 foot frontage had a property value of $5,382; a building value of $90,350; business assessments of $57,440; totalling $153,172 assessments for that parcel.
Brownyer reflects that the idea was that Joyce's son would direct the truck venture, but for various reasons, this plan was abandoned. A short time afterward, Benjamin's only son Robert showed up and headed the division. We are not sure how many G & J trucks were built before the operation was renamed the Gotfredson Truck Corp. Ltd.
A letter written February 10, 1922 by the 0.J. Childs Company (Fire Apparatus) of Utica, N.Y., U.S.A. -- in response to the letter of February 8 from the Gotfredson Joyce Corp. Ltd. -- suggests that G & J wanted to enter the fire truck market. The Chief Engineer at that time was N.S. Reed and in the letter it proves that duty was an issue. "That duty on this material amounts to considerable and for this reason we are going to make you a special discount of 26 2/3 % instead of 20% on single and double units plus an additional 5% from jobber price." That is considerable for the early twenties. We do not know if any Childs' fire apparatus ended up on Gotfredson chassis, however -- as we shall see -- Bickle coupled up frequently.
Also in 1921, Brownyer entered the picture. "I was hired to help get truck production underway as I'd worked on them before for various outfits in Detroit." He recalls that his pay was $35.00; good for the times and an improvement on the $25.00 held been earning before.
Several things happened shortly after 1922. Brownyer says the company had a chief engineer at this point, but he left after a dispute of Some sort. "I was called into the front Office where young Gotfredson told me that as of now I was the new chief engineer." Brownyer was surprised, in fact floored, by the big promotion. "While I'd worked at the Paige-Detroit Motor Car Company before joining Gotfredson, and I had some familiarity with trucks, I didn't know much about designing them.11 Brownyer says he was at a loss as to where to begin.
There was an added challenge, too. "Not only was I told that I was chief engineer, but I was also told that I had to design a new 5-ton Gotfredson in a matter of weeks so it could be shipped to England." He remembers that the truck had to be ready for loading on the 'George Washington' when the ship sailed from Montreal. This was a right-hand drive unit, the first of a number of Gotfredsons shipped to England from the Canadian plant.
At this point we shall attempt to clarify the many ideas surrounding this company. Initially, the truck was build to avoid the high tariffs and there were no plans for commercial sales. The Gotfredson truck was originally designed and built in Canada using American Capitol. Canadians bought many more Gotfredsons then their U.S. neighbors during the twenties. However, the Detroit plant was still producing custom trucks in small quantities long after the last truck came out of Walkerville. Canadians considered the Gotfredson as "their" truck, yet Americans never doubted that it was American built. We have no proof to substantiate that annual production reached 2000 units; however, we know the capability was there, as seen in a October 16, 1920 advertisement.
In 1922-23, nine different truck models were offered in capacities from ¾ to six tons. They ranged in price from about $1,700 to nearly $5,000. Hinkley engines were retained in early production before Gotfredson eventually switched to Buda engines. A "Partial List of GTC Owners" was published in a late 1922 ad that appeared in Motor Trade. It is probable that most of these trucks were G & J and the company name had just changed.
The Canadian production proved successful that the company undertook to produce trucks in Detroit as is quoted from the following April 12, 1923 article from Automotive Industries.
---
.Gotfredson Will Build Truck Line in Detroit
Detroit, April 9, 1923 -- The Gotfredson Truck Corp. has been organized in Detroit as an offspring of the Gotfredson Truck Corporation Ltd. of Canada, to manufacture a specialized unit vehicle for general distribution in the United States. The officers of the American company are Benjamin Gotfredson: president; M. H. Coleman: secretary; and Robert B. Gotfredson: vice-president and general manager.
The company will make a full line of trucks ranging from one to five ton capacity. The American truck will differ somewhat in specifications from the Canadian vehicle to meet different conditions, but on the whole will be similar to the Vehicle which has been made in Canada for a number of years. The models are 1, 1 1/2, 2 1/2, 4, 5 tons.
Branches of the Canadian company are located at Hamilton, Toronto, Montreal and London, England, with the factory at Walkerville. The Detroit factory is at 3601 Gratiot Avenue. This has just been taken over, and the company is now getting into production. As production is increased, it is planned to extend distribution to all parts of the country.
---
At this point, I will mention that 3601, 3599 and 3579 are all addresses which show up at one point or another for the Gratiot Avenue factory. Also, for some reason, Canada tried sales throughout the Dominion while Detroit concentrated on Michigan and Ohio. I have no information at this time about Cleveland or Los Angeles.
---


Walkerville plant where the truck business all started. The factory is the three-story building. We believe the one-story building was added in 1914. The five-story plant was completed in 1920.


The Toronto building is still standing at 242 Spadina Ave.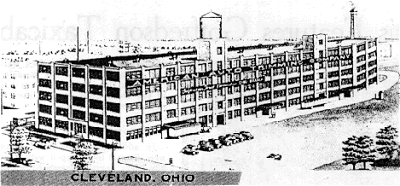 The Cleveland building is still standing at 12910 Taft Ave.


The Los Angeles building is still standing at 1235 East 9th Street.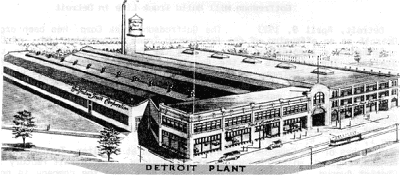 The Detroit plant was a definite factor in the truck production. Originally used for buying and selling horses, this is the artist's concept of what the truck firm looked like in the mid-twenties.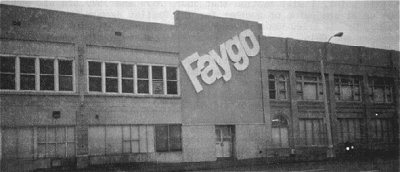 This is the Detroit plant as it looks today. The address is listed under the Faygo sign as 3579 Gratiot Avenue.
---
Indeed, the building on Gratiot had been used for "transportation purposes" earlier; it was the Kolb- Gotfredson Horse Market, in fact a large structure where horses had been bought and sold. It made a dandy truck plant after a few alterations. The building is still standing and is today a Faygo bottling plant.
There were other changes for Brownyer. With the opening of the Detroit operation, he headed engineering departments on both sides of the border. Now he had a team of draftsmen to get his ideas down on paper. "The business boomed and we were selling as many trucks as the Detroit and Walkerville plants could produce. The 1920's were very, very good for the truck business."
Brownyer conceived a novel braking setup which he used on Gotfredson trucks in 1922. This consisted of service braking through the rear axle final drive with an external contracting-type drum mounted right on the worm shaft at the axle housing. Drums on the rear wheels served as the parking brake. "I got a tremendous mechanical advantage by braking through the Worm gear and it worked out very well," he says. He felt this was a much safer arrangement than braking through the drive-line with a transmission brake. That way, if a universal joint sheared, the vehicle might be brakeless.
Timken-Detroit Axle Company was not happy with braking via the differential and final drive, "even though I was a big customer for TDA axles at the time." Obviously the firm was afraid of stripped gears and broken axle shafts, but Brownyer says he never had any problems. "Actually, this setup worked so well that customers began to specify it on other makes of trucks." Brownyer commented.
Brakes for heavy duty trucks were a headache at the time. "Without air or vacuum assistance, the only braking effort you got was what the driver could develop with his foot, so applying the brakes took a lot of effort and it was tiring for drivers." Brownyer states that the only way to increase the leverage with mechanical brakes was to increase the pedal travel, "so at times this was a foot or more." But this wasn't the case with his where the differentials mechanical advantage diminished the need for heavy pedal travel.
As a small producer of specialized assembled-type vehicles. Gotfredson was frequently involved in interesting projects. One was the production of taxicabs at the Walkerville plant in 1924 - for the Canadian market. Brownyer recalls the very high-grade bodies which Canadian Top & Body Ltd., Tilbury Ontario, supplied for these vehicles. "The outfit was headed by a chap named Odette, and he later built many bus and coach bodies for the Walkerville plant", he says. The same firm also supplied Canadian Gotfredson with its distinctive truck cabs. Of interest perhaps, Canadian Top & Body eventually undertook the assembly of Hudson and Essex cars for the Canadian market, also for export to Great Britain. Articles taken from Motor Age, 1925 and Automotive Industries, 1925 described Canadian production of taxis and buses.
The Detroit plant was involved in a taxicab project, too. "In 1925, a cab operator in New York City wanted us to produce cabs for him." Brownyer says this was a different job than the Canadian model as it was designed to the operator's specs. The Detroit-built vehicle was a striking unit, using a Minerva-style radiator instead of Gotfredson's standard cast aluminum radiator which had been used on Walkerville cabs. "We used hydraulic brakes and they proved so satisfactory that we started thinking about four-wheel brakes for the trucks," Brownyer adds. But only one of the promising Detroit cabs was built -- enough for photographs and a catalogue -- but that was all. Brownyer doesn't know what happened except that the venture fell through. Gotfredson trucks at this time were among the most handsome on the road. Smaller jobs used close-fitting helmet or cycle-type fenders in company with attractive step plates which were sportier than conventional running boards.
The big and distinctive cast aluminum radiator helped, too. This was assembled from four cast sections and featured the Gotfredson signature across the top against a red background. Brownyer reflects that it was an expensive radiator to produce, "but I know it helped sell a lot of trucks for us as customers liked it." The radiator was topped by a big cap carrying the letter "G" for added identity.
Another feature was unusual: the frame on heavy duty Gotfredsons. The side members for these were nickel steel "ship channel" section, in fact a structural shape drawn from shipbuilding practice. It was premium construction at a time when most manufacturers were content with pressed-steel channel side rails.
"Ship channel was a rolled section and it differed from other structural shapes in that the flanges were much wider and there was more meat in this area." Brownyer says this enabled a much thinner web, in fact, the side or the interval between top and bottom flanges. "It made an extremely rugged frame, though there was considerable expense as it was premium construction." Brownyer comments that ship channel wasn't a stock shape available from steel suppliers. "We had to order so many tons at a time before the rolling mills would produce it for us as special dies were needed." Obviously it was a first-rate frame. The last Detroit-built Gotfredsons in 1946 -- and perhaps a few after that -- still used a frame with ship channel side rails. By then it measured 7" x 3" x 5/16", with 3/4" flanges at the widest point.
Gotfredson sales in the United States were regional -- though not in Canada -- to the extent that most of the firm's trucks were sold in the Detroit area. Branches and agencies functioned at Cleveland, Los Angeles, Pittsburgh and Chicago. Brownyer can't recall what sort of production the Detroit plant maintained but he knows that few sales were lost to Fisher, Standard, Signal and Denby. These were other Detroit producers offering specialized assembled-type trucks. "We even gave Federal a good run for the money in local sales," Brownyer remembers. Of course, Federal was a much larger firm with a big national network of dealers and branches, but Gotfredson was hot competition in Federal's own backyard.
By 1925, the success of the Gotfredson truck, the arrival of lacquer-type finishes and the trend toward closed and sedan type bodies diminished the demand for American Auto Trimming's services. Also, in March of 1925, the two firms (the American Auto Trimming Company Limited and the Gotfredson Truck Corporation Limited) were merged for economic reasons, and the company became the Gotfredson Corporation Limited.
The Windsor Star reported on April 1925 that Charles S. Porter, general manager, who had been associated with the plant since 1912 stated "We've doubled our capacity every year since we've been in business here. We're now employing 403 men and women in the factory and they're kept mighty busy trying to keep pace with orders. In fact, we've been operating the plant at full capacity ever since early in the winter, and now we're running night and day to catch up with the public demand for our product."
The bus business was just starting to boom thanks to improved road conditions. Both freight and passenger transportation required trucks and buses. The Canadian bus trade was exceptionally large. In 1924, it amounted to one-third of the entire output. The company's highest price bus cost $11,500.
---

---
Expansion
In 1924, the Gotfredson Corporation acquired the Wayne properties from the Harroun Motors Company. On September 14, 1917, the Harroun Motors Corporation was incorporated for ten million dollars. While waiting for their 24,000-unit-per-year factory to be built, the Harroun Company took possession of the former Prouty and Glass Carriage Company. It is believed that the slow settlement by the government for munitions Harroun had made, and not finding new investors in the wake of the post-war recession, may have dealt the end to the Harroun Motors Corporation in June 1922. The factory lay abandoned until the Gotfredson Truck Corporation purchased the complete automotive plant and about 45 acres of land in 1924. All advances hinged on the sale of their existing plant on Meldrum Avenue (between Mack and Benson) in Detroit. On Tuesday, May 12th 1925, the sale was announced of the American Auto Trimming Company plant of the Gotfredson Corporation to the Briggs Manufacturing Company for approximately $1,500,000. The American Auto Trimming Company, with the merger of Gotfredson during the previous year, became the motor body division of the Gotfredson Corporation, which was one of the largest independent auto paint and trim plants in the industry. According to Mr. B. Gotfredson, the sale was made after the Gotfredson Corporation had completed plans for expansion beyond the limits of the Meldrum Avenue factory. The motor body division of the corporation was to occupy temporary quarters in the body plant of the Kelsey Wheel Corporation on Kirby to continue production until the entire plant could be moved to the Gotfredson properties in Wayne, Michigan. Increased demand for all the Gotfredson products had forced the centralization of its various lines of activities at Wayne. The new location also was chosen because of the advantages it offered as a shipping point and because it permitted even further expansion additions when necessary.
Railroad facilities were excellent as there were two main lines, the Michigan Central and the Pere Marquette, available to the property. The labor advantages were said to be far above the ordinary and it was expected the company would employ some 2,000 people.
The facilities for a battery of dry kilns which will enable the company to double its original production, was another reason for transferring the main factory to the new site. Plans for maintaining three plants were in the works at Wayne, Cleveland, and Walkerville.
Mr. Brownyer and the Gotfredson Truck Corp. were in for a busy year in 1925. The Detroit Street Railway was converting from street cars to buses and Gotfredson wanted to be in on the ground floor. Mr. Brownyer set out immediately to produce two interesting bus chassis in a relatively short time. Both chassis were low slung, drop frames. One was a tandem axled chassis for double-deck bodies while the other was a conventional twin-axle unit for single-deck service. The reliable Buda six cylinder engines were used with a variety of technical features.
The series 21 - 29 passenger single deck chassis embodied an offset engine, also an offset underslung worm gear axle, to allow a flat aisle down the length of the chassis. Four-wheel air brakes were also provided with the brake chambers mounted on the brake drums to eliminate linkage. A special version of Gotfredson's aluminum radiator added to the good looks.
Brownyer used a Templin-type bogie for the tandem chassis. This had been developed earlier by Ellis Templin in connection with his 6-wheeler research backed by the Goodyear Tire & Rubber Company. Brownyer recalls there was an odd licensing fee incurred in using the patented Templin bogie. "The only royalty that was involved was an agreement that we'd use Goodyear tires on whatever we built. "The Templin bogie consisted of two axles, each with single tires, connected by a rotating tubular member which absorbed braking and driving thrusts. See photo of 6-wheeler from page three of advertisement above.
In 1925, "The King of them all" and "The Best Truck in the World" slogans, in modest type, appeared on some of the attractive literature issued by the corporation. It sounds somewhat like a challenge, or a boast, but it isn't. It is solely the opinion of a firm that really believes that it has a piece of motorized equipment that is superior to all other vehicles of the same type.
According to claims made at the factory, Gotfredson outsold all manufacturers in Canada and all other makes in Detroit and Wayne Country. In 1925, the firm piled up net profits of $245,279.63, which was considered a very satisfactory showing. Company earnings were equal to $2.45 per share.
1924 and 1925 looked very encouraging, and 1926 started off very well for the Gotfredson Corp. with big-fleet orders for Detroit companies such as Detroit Edison, Michigan Bell, Coca Cola Bottling, Detroit Transfer Co., Unit Fuel & Supply, and Film Truck Service. Truck sales were excellent.
Actually, the firm's Canadian and American-built trucks were selling like hot cakes with the rising prosperity of the mid-1920's. For instance, Canadian Gotfredson reported a sales volume of $800,000 for the first four months of 1926. As Canadian Gotfredson vehicles sold for between $4,000 and $5,000. That was a lot of trucks and impressive output.
U.S. truck sales were almost as rosy as the Canadian picture with numerous Detroit fleets electing to "Go Gotfredson" with big truck orders for 10 and 15 vehicles at a crack. The Detroit plant introduced a new line of jobs in 1927 powered by six-cylinder Buda engines as an option to the Buda four-cylinder. The same year also saw four-wheel hydraulic brakes on some light and medium duty Gotfredsons in the U.S.
Some big orders failed to develop. For instance, the Detroit Street Railway bought a fleet of Safeway six-wheeler double-deckers, which also used Templin bogies. Although the Americans did not demand the Gotfredson buses, on the Canadian side, they were selling fairly well. Fire engine chassis with Bickle equipment were also moving well in Canada.
The American Auto Trim Company committed itself to the production of wooden-framed composite bodies. It seems that the Edward G. Budd company was making great progress with its all-steel bodies. Also, Duco spray paint was being introduced. The American Auto Trim could not find enough customers for its bodies although believing strongly in their traditional wooden frames. Repercussions were felt at Gotfredson, the company's truck subsidiary.
After 1926, the various Gotfredson interests on both sides of the Canadian/U.S. border were involved in a blinding complexity of financial problems. Gotfredson's interests consisted of the Canadian company -- the Goffredson Truck Corp. Ltd., Windsor/Walkerville -- and the American arm of the firm, the Gotfredson Corp. and American Auto Trimming, both of Detroit. All were affected by the financial headache.
The cause of the financial trouble was something called the Wayne Body Corp. at Wayne, MI, just outside Detroit. It appears that American Auto Trimming changed its status and became the Wayne Body Corp. to produce production-type bodies.
Diminishing trimming business, and body style changes to closed bodies, were the main reasons a corporate switch was made to get into bodybuilding through the Wayne Body operation.
Troubles at Wayne Body were marked by a flurry of meetings and gatherings of creditors, One of the headaches was that the firm had contracted to produce production bodies for a Detroit automobile outfit -- apparently Paige-Detroit -- and the deal proved anything but profitable. Paige-Detroit reported that year that it was having difficulty getting enough sedan bodies, so presumably this was linked with problems at Wayne Body. The body outfit had a fair-sized plant of some 240,000 sq. ft. and it was appraised at $1,250,000.
In 1927, an announcement was made that the ailing body concern had been sold to the Paige-Detroit Motor Co. through the intervention of the Graham brothers and Graham Paige Motors Corp, a year or two later. A new body plant didn't produce funds which had been expected, nor did Paige-Detroit want all of Wayne Body either, only the Wayne, Michigan operation. There were still the ex-American Auto Trimming plants at Cleveland and Los Angeles now grouped with the Wayne Body enterprise. Reports stated these plants were mortgaged and presumably added to the dilemma.
It appears that the Gotfredson Corp. attempted to keep what was left of Wayne Body afloat by tapping the Detroit truck plant and Canadian Gotfredson for the funds. Now, while both truck production plants were doing well, they weren't that well.
By 1927, the Detroit Gotfredson truck plant was sagging under the strain. In July, a joint body issue was taken out on the Canadian and U.S. plants of the company, and the Canadian plant was pledged as security collateral for the plants on the other side. Likewise, the Walkerville company was made responsible for the United States accounts which involved the sending over to the U.S. large sums of money.
By Feb. 20, 1929, it is believed that between $350,000 and $400,000 of truck orders were waiting completion and that the company held a contract to manufacture all Studebaker and Erskine auto bodies for the ensuing year, when from Osgoode Hall, Toronto, a news dispatch was released confirming reports that the National Trust Company was receiver and manager of the assets of the company.
K. MacKelcan of the trust company stated in an affidavit that the bond issue was one of $1,000,000., 6 1/2 percent first mortgage convertible sinking fund gold bonds. The Gotfredson Corporation also pledged to the trustees 14,500 shares of the capital stock of the Gotfredson Truck Corporation of Detroit out of an authorized issue of 15,000 shares.
MacKelcan said that he believed the Canadian company had advanced to its subsidiary in Detroit an open account without security amounting to approximately $448,000, and had also guaranteed payments to its subsidiary all obligations of the company amounting to about $1,200,000. The Canadian company had also leased to its subsidiary part of the mortgaged premises in Detroit (Wayne), Cleveland and Los Angeles for an annual rental of $115,000 which was at that time in arrears.
Mr. MacKelcan pointed out that the Canadian plant was unable to carry on business owing to the lack of working capital. Wage rolls of $20,000 were not met. Obviously the Canadian company tried to cut the ties with the American guarantees. The Canadian company's record was reported to be excellent with a high opinion held throughout the Dominion.
By Feb.25, 1929, D. R. Grossman, vice-president and general manager of the Studebaker Corporation of Canada, Ltd. completed a lease with the Gotfredson Corporation's receiver. The three-story and five story units of the Walker Road plant were to be taken over along with about 110 employees in order to produce bodies for Studebaker and Erskine.
Under the rental agreement of the building, Frank Mitchell, sales manager of Gotfredson Corporation, believed it was the best method of assuring operation of the plant until their difficulties could be straightened out.
Within a month, bankruptcy proceedings for the Detroit Gotfredson Corp. was instigated by the Timken-Detroit Axle Company and the Motor Products Corp.
Back in Canada, a group of businessmen were gathering to buy the business from the U.S. concerns. Inventory, buildings, property and equipment went with the deal. Head office and buildings in Walkerville plus branch buildings in Toronto and Montreal Were also part of the deal. "Trucks & Parts" issued advertising stating that while the firm produced Gotfredson trucks, it had no interest or affiliations with any other company bearing the same name. Regular 1929 Gotfredson models were retained in production, although there were some changes later. At this time we are not sure what part of the order with Studebaker was filled, if any.
Through arrangements made with the Canadian Bank of Commerce and the National Trust Company, veteran employees were able to form the new company. President was Frank Mitchell; vice president Arthur Cobham of Toronto; secretary-treasurer James Barth of Windsor; and Lawrence Latimer of Montreal; plus Fredrick Anderson of Walkerville were directors. There were no outside stockholders.
The new company continued to use Gotfredson on its trucks it manufactured. The president, Frank Mitchell, wanted to open service stations coast to coast, and to stock them with a complete supply of parts, so that thorough servicing could be given to the 4,000 Gotfredson trucks that were in use in Canada.
At the same time, Detroit was reorganizing and closed out 1929 with an output of 189 units. What happened to Wayne Body in the end is not known. Receivership problems seemed to be overcome.
Unfortunately, back in Canada, Truck & Parts Ltd. had just got itself all nicely reorganized when the Depression started in late 1929. At the same time, GM's Yellow buses were entering the market very strongly. Also around this time, Bickle started producing their own fire trucks. This is probably why the Gotfredson-Bickle alliance came to an end. The Canadian firm had managed to build 133 Gotfredsons during all the confusion of 1929 and looked to 1930 for better times. It was not be be, as the Canadian Gotfredson output slipped badly in 1930 when only 37 trucks were built, though this wasn't bad compared to Mack and White's bottoming sales in Canada then. Gotfredson's best years had been 1926 and 1927 when just under 400 units were produced in each year. The Canadian truck demand wasn't large, but it was profitable; most of the sales went to customers in Ontario.
Gotfredson always had a firm grip on the Canadian market and its trucks were very popular across the Dominion. The firm operated 6 or 7 big branches in major Canadian cities, though this network of sales outlets was pared down somewhat with the Depression. Big Canadian brewers and oil companies liked Gotfredson's looks and handsome aluminum radiator. Department stores bought many a one-ton Gotfredson "Speed Truck" in the 1920's. though the firm dropped these lighter units in 1929 or 1930.
Gotfredson buses and fire trucks were numerous as well as profitable. Bickle was a Canadian producer of fire apparatus and in the following pages we will see that the firm used Gotfredson chassis for several years.
Gotfredson enjoyed some export sales, too, essentially to Great Britain. How many were sold isn't known, but the company did make an effort to develop a British market in 1928. And the Canadian Army had a few Gotfredsons as well, including an experimental tandem 6-wheeler using a Hendrickson bogie. See the November 1932 article from Bus and Truck Transport in Canada.
To indicate the interest Canadians had in Gotfredson, when Truck & Parts announced that it had taken over the Canadian production of these vehicles, several brewers and oil companies rushed to place orders for trucks demonstrating their regard for Gotfredsons and their faith in the new company. Gotfredson trucks had an added appeal in Canada now that they were "all Canadian". Of course, the fact that Buda engines, Brown-Lipe transmissions and Timken axles were imported didn't matter. The truck was seen as "more" Canadian than it had been, though this was impossible technically.
Truck & Parts got another big order for automobile bodies in 1931 with the announcement that it had a contract for 850 bodies to be supplied to an unspecified car manufacturer. The order called for bodies in batches of 100 "as warranted."
This is of interest, I think. As the Depression deepened the Canadian government raised the import duty on American-built cars. The idea was to generate more employment through Canadian assembly and manufacturing operations. Almost overnight, Packard, Hupmobile, Studebaker, Graham-Paige and one or two other firms took steps to either launch or widen Canadian assembly plant operations in the Windsor/Walkerville area. The move generated some new business for Canadian bodybuilders, at least until the market for new cars and trucks almost vanished in the depths of the Depression. For instance, Hupmobile's Canadian sales fell off to about 500 cars in 1931, so who needed bodies "in batches of 100?"
There was another switch in names by 1932. Truck & Parts becoming Gotfredson Trucks Ltd. Sales dipped sharply that year to about 30 trucks; by comparison, White sold around 70 units; while International -- always a big volume seller -- had to be content with sales of a paltry 500 trucks.
Gotfredson introduced a new six-ton tandem in 1932, certainly a novelty for the times. The job used a very early version of the Thornton tandem. This would be a very popular bogie in a few years for the conversion of Fords and Chevys to tandems or six-wheelers. But Gotfredson had it first. The company sent the new unit on a 2,500 mile jaunt around Eastern Canada to drum up sales. It was also demonstrated to the Canadian Army, but without success.
The penny-pinched Canadian Army was buying a few new trucks around then, though one can't imagine where the funds came from with Depression budgets. In any event, the Army needed some trucks. But instead of Gotfredsons -- or GMC tandems for that matter, since GMC was hot after the same order -- the Canadian Army bought British-built Leyland six-wheelers.
It is not known how many Gotfredson tandems were built in 1932 (perhaps into 1934). Shell Oil bought a few and the following picture may be one of the last units to leave the factory in 1933 or early 1934.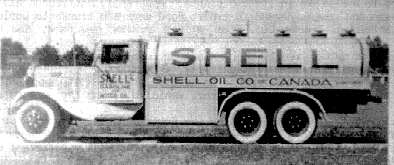 They were good looking units with such advanced features as veed, two-piece windshields and "streamlined," or at least, rounded and somewhat curved cabs. Specs were the same as ever, typically Buda Engines, Timken axles and Brown-Lipe transmissions. For all of this, the trucks still carried big polished aluminum radiators.
Gotfredson Trucks Ltd. of Canada made a surprising move in 1933. The firm took on the distribution of Diamond T trucks for Eastern Canada, while plans were advanced for Canadian assembly as well. This didn't develop, although Gotfredson branches promptly offered Diamond T's. It couldn't have been overly profitable; less than 20 Diamond T's were sold in Eastern Canada in 1933.
Gotfredson stated that Diamond T would be handled in addition to the production of its own trucks. Available data indicates that 13 trucks were sold during the first five months of 1933 and more may have been built as the firm still listed itself as a truck manufacturer in annual reports as late as 1935. It seems unlikely that these would have been old or unsold trucks as Gotfredsons in the 1930's were custom-built and no longer a production job.
Around 1934, Gotfredson received some large contracts from the Ford Motor Co. of Canada Ltd. for truck cabs, also for a variety of stake and rack bodies. Later the firm was asked to trim and finish convertible coupe bodies for Ford, and also build station wagon bodies.
---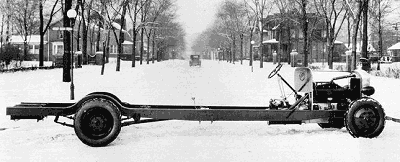 The later units featured a long wheel base, drop frame, disc wheels, and bullet lights. This may have been a bus chassis since they furnished high speed bus units in later years. We believe this picture was taken outside the Walkerville plant.
---
Gotfredson's links with Ford of Canada were certainly very close and the firm was identified within Ford as being capable of doing anything that Ford didn't care to undertake in its own plants. Apparently Gotfredson also produced packing cases and crates needed to export Ford cars and trucks to world markets. In 1938 Gotfredson Trucks Ltd. took on yet another new name, now Gotfredson Ltd.
What happened after really isn't part of our story as it doesn't concern trucks and an earlier era. Essentially, Gotfredson flourished on Ford subcontracts for a variety of needs. In particular, the firm supplied Ford with thousands of cabs and bodies for military vehicles during the war years.
In 1943, Windsor City Directory listed the Gotfredson building at 2489 Seminole. Gotfredson Ltd. listed F. H. Anderson as president; T. H. Anderson as vice president; J. H. Barth as secretary-treasurer; and G. A. Hope as assistant secretary. The commercial motor bodies plant was located at 924 Walker Road. Plant 2 was at 1030 Walker Road. Plant 3 was at 2489 Wyandotte.
Proof that the Canadian Gotfredson Company still existed and employed several employees was seen in a Windsor Star article dated Sept. 14, 1945.
---
First "Feeder" Plant Closed Because of Ford Strike
Gotfredson Company is shut down - 480 Employees Out of Work
Production lines at the plant of Gotfredson Ltd. were closed Thursday making idle another 480 employees. The shutdown was the direct result of the strike at the plants of the Ford Motor Company of Canada Ltd.
Ford of Canada "farms out" a part of their work to Gotfredson. Materials are supplied to the latter, fabricated and shipped back to the Ford Plants. Because no materials had been coming from Ford, no work is available for Gotfredson employees. "We have only maintenance staff on hand this morning", James H. Barth, secretary-treasurer told The Star.
Layoffs at other plants are likely. In previous Ford of Canada strikes, employees of a dozen or more feeder plants have been affected and additional hundreds made idle.
---
Then, after the war, it was back to Ford cabs and truck bodies, as well as convertibles. Also by then, Gotfredson Ltd. had expanded into Studebaker of Canada's old Windsor assembly plant.
By June 1949, plans to add to the existing factory and also to build a storage building near Wyandotte and Montreuil Ave. Windsor were drawn up. We do not believe it was ever developed.
By the summer of 1954, Gotfredson Ltd. was employing about 700 men and women. It is believed that they were turning out about sixty units per hour. They were on Ford "free issue" which means Ford supplied all material, down to the glue, paint and last screw. It is also believed that they were making convertible, hardtop, glass hardtop, station wagons and truck cabs before the Oakville plant was opened.
By the 1960's, all traces of Gotfedson Ltd., Windsor, had disappeared when Ford purchased the buildings and property to merge with its own. But vestiges of Gotfredson Ltd. survived elsewhere and well into the 1970's, only to be acquired by American Motors of Canada Ltd. as AMC's upholstery and trim plant.
Let's go back across the border to our good American neighbors and see where they headed. Appearing in Automotive Daily News, August 8, 1929, was the following article.
---
Robert Gotfredson Truck Company
The Robert Gotfredson Truck Company was recently organized to succeed the former Gotfredson Truck Company. The products of the company consist of motor trucks ranging in sizes from one to seven tons. The company specializes in the production of one, two and three-ton models of trucks. Business of the company is showing constant improvements.
The capitalization consists of $250,000 in 7 per cent preferred stock and 50,000 shares of No Par common stock.
The officers of the corporation are Robert B. Gotfredson - president; Arthur C. Grambo - vice-president in charge of sales; Louis R. Richards - assistant to the president; John J. Barlum - treasurer.
Directors are Joel Stockard, Arthur C. Grambo, Henry Vroom, Robert Allan, Louis
R. Richards, Robert B. Gotfredson, S. Sallan, and John J. Barlum.
---
Gotfredson headed on, making an attractive vehicle to enter the 30's. It changed the motor meter which was now a centaur. Hydraulic brakes on four wheels, internal expanding type completely enclosed, was advertised to insure perfect equalization whether loaded or light. The company offered a 50 horsepower, 3 inch crankshaft, 5 main bearings 4-cylinder Buda -- or the 65 horsepower, 7 main bearings 6-cylinder. The slogans were "Buoyant Acceleration" and "100,000 miles of uninterrupted service." The models were known as RB34 and R836 with gross capacity of 10,100 pounds. They carried these models well into 1933-34.
Digressing slightly, we found in the late twenties that the Triangle Freight Forwarding Co. of Toledo, purchased two Gotfredsons. Triangle became insolvent during the 1929 crash and was unable to meet the payments. When Triangle was auctioned in 1931, Robert Gotfredson was the successful bidder. Triangle, with terminals in Chicago, Cincinnati, Dayton and Detroit and its main office in Toledo Ohio, was renamed Transamerican Freight Lines Inc. and the head office was moved to Detroit.
Diesel engines were introduced by Cummins as a more economical means of transporting freight. It is believed that they were introduced in an Indiana first (August 1932); Gotfredson (October 1932); and Stering (November 1932), making them pioneers.
In an article done on Arthur Druckenmiller of Lewistown, Pa., by Rolland Jerry, Art stated "The savings in fuel compared with gasoline were tremendous even then, and of course there was supposed to be much better performance with the diesel's lugging power."
The early 1930's were hard times and there was not a great deal of money to spend on new equipment so diesel units were built up from spare axles, cabs, frames and transmissions salvaged from wrecks and older trucks.
In 1932 or 1933 the firm made an advantageous move by acquiring the Michigan distribution rights for Cummins diesel engines. A new subsidiary was formed, Diesel Sales of Michigan. A service depot was set up in the Gratiot Avenue plant, functioning along side what truck production there was.
In the early diesel years, many Gotfredsons were used by Transamerican since they were affiliated. Some of these units used the traditional Gotfredson cast aluminum radiator, while others employed plated and slightly veed radiator shells.
The Robert Gotfredson Truck Company offered a 3 ton RD64C model and a 5 ton RD104C model with air brakes for Oct. 31, 1932. The 448 cubic inch, 4-cylinder Cummins diesel produced 83 horsepower at 1800 RPM. Compression was 17 to 1, cylinders -- cast enbloc (removable liners) and the crankcase -- iron alloy (integral). 4 7/8" bore x 6" stroke. The generator and starter motor are 24 volt system - Leece Neville. The air compressor is a Westinghouse built-in of 6 cubic foot capacity, gear driven. The transmission is a Brown-Lipe Model 725, 5 speed - 7.07 to 1 ratio. The clutch is a Brown-Lipe Model 14" single plate type. Front and rear axles are from Timken while the steering gear is Ross cam and lever type. The frame is pressed steel .22 to .32 carbon, heat treated. They advertised 35 mph in direct drive and 42 mph in overdrive.
The diesel motor is a slow speed motor, cool running and of terrific torque ability; with accessories such as spark plugs, ignition wires, carburetor, distributor or magneto, coils and switches eliminated. Petty maintenance costs are eliminated because the above parts have no place in the makeup of a diesel.
The base price for a 3 ton diesel chassis was $4,500.00; 5 ton diesel chassis was $5,100.00; and 7 ton diesel chassis was $6,000.00; with Westinghouse Air Brakes $300.00; and Standard Cab $175.00. The Sleeper Cab was $175.00 extra. At the same time, June 1933, a l0 ton Buda 4-cylinder chassis was $975; and a 6-cylinder was $1,075. Waukesha engines were offered also. As an example, a 3 ton Waukesha 6-cylinder gas engine chassis is $3,395.
In 1936, Gotfredson adopted GMC cabs for its trucks. These were ultra custom heavy duty vehicles produced in very small numbers, no more than five or six a year and all for Detroit area customers. At the time, if a truck operator wanted a diesel-powered job, he had to go to a custom producer like Gotfredson to get it. Major truck manufacturers didn't build diesels and left what little business there was in this line to specialty and custom truck outfits.
Gotfredsons were big trucks then, far larger than the firm had built earlier. See September, 1945 Motor Trade and Equipment article. In 1940, Gotfredson's RW146 was offered in gross combination weights up to 100,000 pounds. The job was powered by a 150 hp Cummins HB-600, used in conjunction with a 5 speed Brown-Lipe transmission and a Timken worm-gear axle. As ever, the frame was assembled with ship channel side rails, in fact premium nickel steel. Drive was by radius rods.
The company continued to build these custom jobs in very small quantities until 1946 when production ended, though it's believed a few were built afterwards, too. And, as of 1946, the Robert Gotfredson Truck Co. and Diesel Sales of Michigan occupied only a small part of the former Gratiot Avenue "horse market." The emphasis had changed as well - now it was on Cummins engines, not the trucks that had carried the "Big G" for so many years on both sides of the border.
---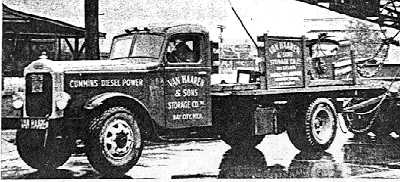 1938 Cummins Diesel Gotfredson
---
Final Chapter to the Canadian Gotfredson Plant
In its latter years, several small businesses occupied the Walker Rd., Walkerville (Windsor) Gotfredson plant.
Unfortunately a fire in June 28, 1985, which may have been started at the rear of the second floor, consumed the entire building.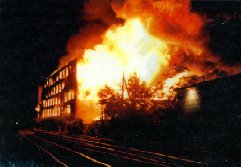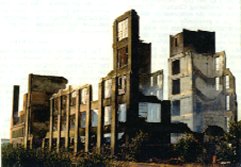 ---
Acknowledgment
Although we talked to Mr. Nelson Brownyer and his wife, most of the history was obtained by the talented journalist, Mr. Rolland Jerry, in his articles from Old Cars in 1977; and Motor Truck and Equipment 9/1945.
Pictured with the Brownyers is Lois Simpson, our dedicated researcher. A special thanks to an extremely good friend who has helped immensely in acquiring our truck. Also, the quality of this roster is due to her fine effort.
The people whose trucks appear before you have added other material as well. Thank you all. Walt McCall, Jim Bibb and Gene Myers supplied a lot of original photos from their collection and several hours of inspiring conversation. Bill Cole, Jim Winters, Al Lobsinger, and Myron & Ed Roseman also gave me an important hand. Thanks goes out to the Windsor Star, Windsor Library, Welland Tribune - Jim Middleton, Elaine Wilson, Detroit Library - Ron Grantz; and last, but not least, Tom Hickey of C. E. Hickey and Sons Company Limited.
I thank you all and hope you enjoy sharing the Gotfredson material as much as I have enjoyed meeting all of you.
I am anxious to find more material on the Gotfredson Corporation and its manufacturing. I am positive that there is probably more material yet to be uncovered on this fine company.
(Compiled and edited by David Gotfredson)