CANADIAN STAMP SERIES
---

Farm and Frontier Vehicles
The third set of Historic Land Vehicles Stamps - issued in a souvenir sheet format in 1996 - depicts farm and frontier vehicles, including three used on farms and three used in off-road conditions. One of the six stamps issued depicted a Gotfredson truck. The stamp showing a one-ton, 1924 Gotfredson farm truck depicts the vehicle with a stake body, which has removable wooden racks. A similar model is housed in the collection of the Reynolds-Alberta Museum in Wetaskiwin.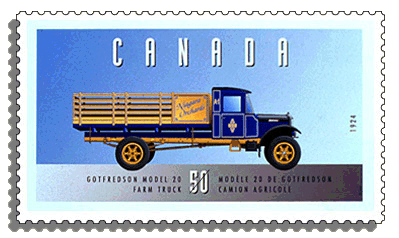 1924 Gotfredson Model 20 Farm Truck
Following the First World War, Canadian farmers realized the many advantages of owning a truck, from less-expensive Ford models to such premium-priced models built by companies such as Gotfredson Truck Corporation. Canadian production began in 1920 with a range of commercial vehicles, taxis, fire truck chassis and buses. Customers were impressed by the rugged construction and the cast-aluminum radiators. The truck also boasted Buda and Hercules engines, Timken and Clark axles and Brown-Lipe transmissions. The Canadian plant, reorganized in 1929, continued to produce Gotfredson trucks until 1936.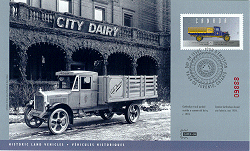 Day of Issue Stamp Card, 1996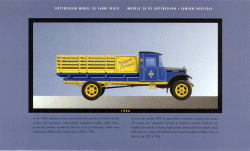 Day of Issue Stamp Card, 1996 (back)
Copyright © 1998 David Gotfredson