HISTORY
---
Hands Across the Border: Canadians Liked Gotfredsons as Well as Yanks
( Part One of a Two-Part Story )
by
Rolland Jerry
Americans have benefited from a number of Canadian exports down through the years. There were the actresses Marie Dressler and Mary Pickford, and of course thirsty Americans managed to survive Prohibition with the aid of first-rate if slightly illegal Canadian scotch and rye. The Dominion had an export in the truck world, too - the Gotfredson.
The Gotfredson was an odd one to be sure. Canadians bought many more Gotfredsons during the 1920s than U.S. customers, yet the Detroit plant outlasted the firm's Canadian operation at Walkerville by several decades. Canadians considered the Gotfredson as "their" truck, yet Americans never doubted that it was American-built.
That's our story, the Canadian-built Gotfredson that never was anything but an American truck, though it did achieve fleeting Canadian status towards the end of production at Windsor/Walkerville.
The Gotfredson was a Canadian-built truck launched by American capital and enterprise. It got into production almost unintentionally. Originally there were no plans for commercial sale.
The project was the brainchild of two Detroit men, Benjamin Gotfredson and Frank Joyce. The time was shortly after World War I and the setting was Windsor and Detroit. Both men were involved in a major Detroit enterprise called the American Auto Trimming Company. This was an interesting outfit and I think it warrants a closer look.
Back in the early days of the automotive industry, car manufacturers were rarely equipped to paint, upholster and trim their own bodies. This applied to the large production bodybuilders, too. Both would frame and panel the bodies, then farm them out to specialty shops for paint and trim.
Vintage enamels and varnish could be touchy to work with. They were also slow-drying finishes and huge buildings were needed to store newly painted bodies until they were dry. Overall, car manufacturers and bodybuilders were happy to pay vendors and specialists for the service.
American Auto Trimming was by far the largest outfit in the business. In fact, it was a good deal larger than many of its customers for painted and trimmed touring car bodies. The firm operated a huge plant on Meldrum Avenue in Detroit, also other plants at Cleveland and Los Angeles. In general, the company set up shop wherever cars were built or assembled.
American Auto Trimming thrived in Canada, too. The firm operated a big plant at Windsor/Walkerville to paint and trim Model T bodies for the Ford Motor Company of Canada, while a second plant was located at Toronto, presumably to finish bodies for Ford's assembly operations there.
A lot of trucks were involved in all this. Bodies "in white" had to be collected from bodybuilders and manufacturers, taken to American Auto Trimming's plants for paint and trim, and then be returned for mounting on the manufacturer's assembly lines.
Nelson Brownyer, Gotfredson's chief engineer In the mid 1920s, recalls the whole operation largely hinged on trucks. "There was a constant stream of vehicles to and from these plants for the transport of bodies, either finished and ready for the chassis, or unfinished and in need of paint and trim. The traffic was heavy most of the time."
Just after the war, American Auto Trimming needed some new trucks for its Canadian plant serving Ford. But there were problems, as Brownyer comments: "New trucks were very expensive in Canada with the high import duty, since they came from the United States." So the company reasoned that if trucks were too expensive to purchase, why not build a few of its own?
It was sound reasoning. Trucks in 1919/1920 were so simple and fundamental that any good mechanic could assemble one from stock components. And that's what happened. "American Auto Trimming employed a very good Master Mechanic at the Walkerville plant, and he said there'd be no problems in assembling half a dozen trucks or so to meet the company's needs," Brownyer says.
"He just went across the river to Detroit and picked up his engines from Hinkley, a few axles from Timken, and whatever else he needed. McCord had a radiator plant at Walkerville, so he could get the radiators in Canada, also the frames from the Canadian Bridge Company."
The trucks were assembled in a corner of American Auto Trimming's big Walkerville plant. "They worked out as well as any trucks the company could have bought on the open market," Brownyer adds, "so it was decided to build a few commercially for Canadian customers."
---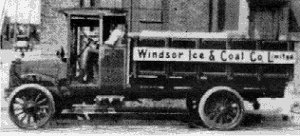 A 1921 Windsor/Walkerville-built G & J truck from a vintage (very) Hinkley engine catalogue. The G & J lacked the style of the Gotfredson, used cast iron radiators, grille guards and solid tires on spoke wheels. Canadians could buy the G & J but Americans couldn't, though this changed with the new name -- Gotfredson -- and production on both sides of the border.
---
And that's how the Gotfredson truck was born, except that it wasn't called the Gotfredson until later. The first units were named the "G & J" after Gotfredson and Joyce, heads of American Auto Trim. The new Canadian truck operation was called Gotfredson & Joyce Ltd.
Brownyer reflects that the idea was that Joyce's son would direct the truck venture, but for various reasons this plan was abandoned. "Around then, which would have been 1921 or so, Gotfredson's son Robert had just graduated from college, so he headed the company instead." A few G & J trucks were built before the operation was re-named the Gotfredson Truck Corp. Ltd.
Brownyer entered the picture then, too. "I was hired to help get truck production underway as I'd worked on them before for various outfits in Detroit." He recalls that his pay was $35.00; good for the times and an improvement on the $25.00 he'd been earning before.
---
Bevy of 1925 Gotfredson "Speed Trucks" from a 1920s Gotfredson catalogue. Gotfredson built a natty 3/4 to one tonner, used cycle-type fenders and sporty step plates instead of running boards. Gotfredson's U.S. catalogues were filled with many Canadian-built jobs as sales in Canada often topped the U.S.
---
Several things happened shortly after. Brownyer says the company had a chief engineer at this point but he left after a dispute of some sort. "I was called into the front office where young Gotfredson told me that as of not I was the new chief engineer." Brownyer was surprised, in fact floored by the big promotion.
"While I'd worked at the Paige-Detroit Motor Car Company before joining Gotfredson, and I had some familiarity with trucks, I didn't know much about designing them." Brownyer says he was at a loss as to where to start, from the radiator or the taillight.
There was an added challenge, too. "Not only was I told that I was chief engineer, but I was also told that I had to design a new 5-ton Gotfredson in a matter of weeks so it could be shipped to England." He remembers that the truck had to be ready for loading on the "George Washington" when the ship sailed from Montreal. This was a right-hand drive unit, the first of a number of Gotfredsons shipped to England from the Canadian plant.
"During the next few years we designed and built some nine different truck models in capacities from 3/4 to six tons in a price range from about $1,700 to nearly $5,000" he recalls. Hinkley engines were retained in early' production before Gotfredson switched to Buda units.
Brownyer states that Canadian production proved so successful that the company then undertook to produce trucks in Detroit. American Auto Trimming decided that it could use a few more trucks in its American operations, selling the rest commercially. "Benjamin Gotfredson has a building in Detroit that was suitable for the purpose, so we started producing them over there," Brownyer says.
Indeed, the building had been used for "transportation purposes" earlier; it was the Kolb-Gotfredson Horse Market, in fact a large structure out on Gratiot Avenue where horses had been bought and sold. I made a dandy truck plant after a few alterations. And it's still standing now as a bottling plant.
There were other changes for Brownyer. With the opening of the Detroit operation he headed engineering departments on both sides of the border. And now he had a team of draftsmen to get his ideas down on paper. "The business boomed and we were selling as many trucks as the Detroit and Walkerville plants could produce. The 1920s were very, very good for the truck business."
Brownyer conceived a novel braking setup, which he used on Gotfredson trucks in 1922. This consisted of service braking through the rear axle final drive with an external contracting-type drum mounted right on the worm shaft at the axle housing. Drums on the rear wheels served as the parking brake.
"I got a tremendous mechanical advantage by braking through the worm gear and it worked out very well," he says. He felt this was a much safer arrangement than braking through the driveline with a transmission brake. That way, if a universal joint sheared the vehicle might be brakeless.
But the Timken-Detroit Axle Company wasn't very happy with braking via the differential and final drive. "Even though I was a big customer for TDA axles at the time." Obviously the firm was afraid of stripped gears and broken axle shafts, but Brownyer says he never had any problems.
"Actually, this setup worked so well that customers began to specify it on other makes of trucks," Brownyer comments. Big Detroit area fleets like Michigan Bell and Detroit Creamery wrote Brownyer's braking arrangement into their general specs for new trucks.
Brakes for heavy-duty trucks were a headache at the time. "Without air or vacuum assistance, the only braking effort you got was what the driver could develop with his foot, so applying the brakes tool a lot of effort, and it was tiring for drivers."
Brownyer state that the only way to increase the leverage with mechanical brakes was to increase the pedal travel, "so at time this was a foot or more." But this wasn't the case with his where the differential's mechanical advantage diminished the need for heavy pedal travel.
As a small producer of specialized assembled-type vehicles, Gotfredson was frequently involved in interesting projects. One was the production of taxicabs at the Walkerville plant in 1924 for the Canadian market. Brownyer recalls the very high-grade bodies which Canadian Top & Body Ltd., Tilbury Ontario, supplied for these vehicles.
"The outfit was headed by a chap named Odette, and he later built many bus and coach bodies for the Walkerville plant," he says. The same firm also supplied Canadian Gotfredson with its distinctive truck cabs. Of interest perhaps, Canadian Top & Body eventually undertook the assembly of Hudson and Essex cars for the Canadian market, also for export to Great Britain.
The Detroit plant was involved in a taxicab project, too. "In 1925, a cab operator in New York City wanted us to produce cabs for him." Brownyer says this was a different job than the Canadian model as it was designed to the operator's specs.
The Detroit-built vehicle was a striking unit, using a Minerva-style radiator instead of Gotfredson's standard cast aluminum radiator, which had been used on Walkerville cabs. "We used hydraulic brakes and they proved so satisfactory that we started thinking about four-wheel-brakes for the trucks," Brownyer adds.
But only one of the promising Detroit cabs was built -- enough for photographs and a catalogue -- but that was all. Brownyer doesn't know what happened except that the venture fell through. Gotfredson trucks at this time were among the most handsome on the road. Smaller jobs used closefitting helmet or cycle-type tenders in company with attractive step plates, which were "sportier" than conventional running boards.
The big and distinctive cast aluminum radiator helped, too. This was assembled from tour cast sections and featured "Gotfredson" spelled out across the top against a red background. Brownyer reflects that it was an expensive radiator to produce, "but I know it helped sell a lot of trucks for us as customers liked it." The radiator was topped by a big cap carrying the letter "G' for added identity.
Another feature was unusual -- the frame on heavy duty Gotfredsons. The side members for these were nickel steel "ship channel" sections, in fact a structural shape drawn from shipbuilding practice. It was premium construction at a time when most manufacturers were content with pressed-steel channel side rails.
"Ship channel was a rolled section and it differed from other structural shapes in that the flanges were much wider and there was 'more meat' in this area." Brownyer says this enabled a much thinner web, in fact the side or the interval between top and bottom flanges. "It made an extremely rugged frame, though there was considerable expense as it was premium construction."
Brownyer comments that ship channel wasn't a stock shape available from steel suppliers. "We had to order so many tons at a time before the rolling mills would produce it for us as special dies were needed." Obviously it was a first-rate frame; the last Detroit-built Gotfredsons in 1946 (and perhaps a few after that, too) still used a frame with ship channel side rails, and by then it measured 7" x 3" x 5/16", with 3/4" flanges at the widest point.
Gotfredson sales in the United States were regional (but not in Canada) to the extent that most of the firm's trucks were sold in the Detroit area, though branches and agencies functioned at Cleveland, Los Angeles, Pittsburgh and Chicago. Brownyer can't recall what sort of production the Detroit plant maintained but he knows that few sales were lost to Fisher, Standard, Signal and Denby. These were other Detroit producers offering specialized assembled-type trucks.
"We even gave Federal a good run for the money in local sales," Brownyer remembers. Of course, Federal was a much larger firm with a big national network of dealers and branches, but Gotfredson was hot competition in Federal's own backyard.
1925 was a busy year for Brownyer and buses were a big part of the picture. "The Detroit Street Railway was converting from street cars to buses and we thought there'd be some business there if we had something to offer."
---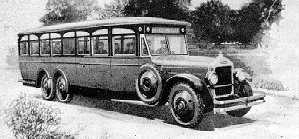 Brownyer's interesting 6-wheel chassis originally intended for Detroit Street Railways, except that the DSR bought Safeway Six Wheelers instead. Unit used a Templin-type bogie and managed to make the firm's catalogue, but that's as far as it got. It's shown here as a single-decker but the idea was to sell DSR a lot of double-deckers for city use.
---
And there was, two interesting bus chassis which Brownyer's design team produced in a relatively short time. Both were low, drop frame jobs, one a tandem axled chassis for double-deck bodies and the other a conventional two-axled unit for single deck service. Buda 6-cylinder engines were used in company with a variety of technical features.
The 21-29 passenger single deck chassis embodied in offset engine, also an offset underslung worm gear axle, to allow a flat aisle down the length of the chassis. Four-wheel air brakes were also provided with the brake chambers mounted on the brake drums to eliminate linkage. A special version of Gotfredson's aluminum radiator added to the good looks.
Brownyer used a Templin-type bogie for the tandem chassis. Ellis Templin had developed this earlier in connection with his 6-wheeler research backed by the Goodyear Tire & Rubber Company. Brownyer recalls there was an odd licensing fee incurred in using the patented Templin bogie.
"The only royalty that was involved was an agreement that we'd use Goodyear tires on whatever we built." The Templin bogie consisted of two axles, each with single tires, connected by a rotating tubular member, which absorbed braking and driving thrusts.
Big orders failed to develop. Instead, the DSR bought a fleet of Safeway Six Wheeler double-deckers, which also used Templin bogies. Brownyer can't recall more of Gotfredson's buses than the prototypes, but if there was little American demand, the single deck chassis found a few customers in Canada and met with more success.
Brownyer recalls that 1926 was an eventful year. "Truck sales were excellent. We filled big fleet orders for Detroit outfits like United Fuel & Supply, Otto Misch, Film Truck Service and Detroit Transfer, but the parent outfit was having problems." This was a move by American Auto Trim to get into bodybuilding, as opposed to merely painting and trimming bodies.
American Auto Trim acquired the former plant of the Harroun Motor Company at Wayne just outside Detroit. The plant had been vacant since 1922 with the windup of the short-lived Harroun car, which was named after Ray Harroun of Indianapolis and racing fame.
According to Brownyer, American Auto Trim committed itself to the production of wood-framed composite bodies, "and of course by then Edward G. Budd was making great progress with his all-steel bodies." The upshot was that American Auto Trim couldn't find customers for its bodies. Repercussions were felt at Gotfredson, the company's truck subsidiary.
Brownyer describes the situation as "jellylike", so he left in 1926 to continue what, would be a distinguished career involving more trucks, 6-wheelers and tandem units, "automotive-type" street cars and railway equipment, finally brakes and axles. On his retirement Brownyer was Director of Research for Rockwell-Standard, one of the world's largest producers of axles and brakes. Perhaps I'll have an opportunity to cover other phases of Brownyer's career in another article.
But in the next article on Gotfredson I'll deal with the firm's highly successful Canadian operations, which for a time at least, overshadowed what happened in the United States. Then, too, in later years there were closer links with the Ford Motor Company of Canada, still involving trucks but now Fords instead of Gotfredsons. And last but no least, this interval would also see a revival of Gotfredson's Detroit operations.
~ August 9, 1977 article from Old Cars newspaper; published by Krause Publications, Inc. ~