HISTORY
---
Gotfredson was Great on Big Trucks and Bodies for Studebaker and Ford
( Part Two of a Two-Part Story )
by
Rolland Jerry
After 1926 the various Gotfredson interests on both sides of the Canadian - U.S. border involved in a blinding complexity of financial problems. Gotfredson's interests consisted of the Canadian company -- the Gotfredson Truck Corp. Ltd. of Windsor/Walkerville; and the American arm of the firm -- the Gotfredson Corp. and American Auto Trimming, both of Detroit. All were affected by the financial headache.
Actually, the firms Canadian and American-built trucks were selling like hot cakes with the rising prosperity of the mid-1920s. For instance, Canadian Gotfredson reported a sales volume of $800,000 for the first four months of 1926. As Canadian Gotfredson vehicles sold for between $4,000 and $5,000 that was a lot of trucks and impressive output.
U.S. truck sales were almost as rosy as the Canadian picture with numerous Detroit fleets electing to "Go Gotfredson" with big truck orders for 10 and 15 vehicles at a crack. The Detroit plant introduced a new line of jobs in 1927 powered by six-cylinder Buda engines as an option to the Buda four-cylinder. The same year also saw four wheel hydraulic brakes on some light and medium duty Gotfredsons, but only in the U.S.
---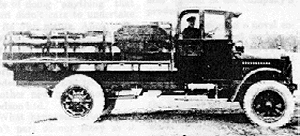 An early "G&J" before the switch in names to Gotfredson. Job has pneumatic tires, "gas" headlights and a cast iron rad. Fenders were simple and fundamental, so was the cab. (Photo: Canadian Road Transport Archives).
---
Cause of the financial trouble was something called the Wayne Body Corp. at Wayne just outside Detroit. It appears that American Auto Trimming changed its status and became the Wayne Body Corp. to produce production-type bodies. With the arrival of fast-drying lacquer finishes and the big trend to closed and sedan-type bodies, one imagines there was a diminishing demand for American Auto Trimming's services, that is, painting and trimming bodies. So it appears a corporate switch was made to get into bodybuilding through the Wayne Body operation.
Troubles at Wayne Body were marked by a flurry of meetings and gatherings of creditors. One of the headaches was that the firm had contracted to produce production bodies for a Detroit automobile outfit (apparently Paige-Detroit) and the deal proved anything but profitable. Paige-Detroit reported that year it was having difficulty getting enough sedan bodies, so presumable this was linked with problems at Wayne Body. The body outfit had a fair-sized plant of some 240,000 square feet and it was appraised at $1,250,000.
In 1927 an announcement was made that the ailing body concern had been sold to the Paige-Detroit Motor Car Co. through the intervention of the Graham brothers and their takeover of Paige-Detroit -- in fact, the forerunner of the highly successful Graham-Paige Motors Corp. a year or two later. A new body plant would fit in nicely with anticipated expansion, it was said.
Sale of the plant didn't produce solutions, though. It appears that transfer of the property failed to yield the funds which had been expected, nor did Paige-Detroit want all of Wayne Body, only the Wayne, Michigan operation. There were still the ex-American Auto Trimming plants at Cleveland and Los Angeles now grouped with Wayne Body enterprise. Reports stated these plants were mortgaged and presumably added to the dilemma.
I appears that the Gotfredson Corp. attempted to keep what was left of Wayne Body afloat by tapping the Detroit truck plant and Canadian Gotfredson for the funds. Now, while both truck production plants were doing well, they weren't doing that well.
By 1927 the Detroit Gotfredson truck plant was sagging under the strain. Then, in July of that year, it was announced that Canadian Gotfredson -- the Gotfredson Truck Corp. Ltd. -- would assume financial responsibility for what was left of Wayne Body. As I said earlier, Canadian Gotfredson was thriving on truck production, also the painting and trimming bodies for the Ford Motor Co. of Canada Ltd.
It appears to have been the undoing of the Canadian company, at least temporarily. In March of 1929, the Gotfredson Truck Corp. Ltd. was in receivership. Executives complained that while business was good with steady truck sales and body sub-contracting for Ford, the company couldn't meet its payroll at 110 workers because fund were tied up in the receivership tangles.
Then it was Detroit's turn. In the same month the Gotfredson Corp. (the truck plant) was involved with bankruptcy proceedings instigated by the Timken-Detroit Axle Co. and the Motor Products Corp. Events were breaking fast, unhappily so.
Reading behind the lines in all of this, it's apparent that executives of the Canadian company were incensed at what had happened. After all, Gotfredson's Canadian business was sound and making a profit. The Canadian firm was linked to U.S. Gotfredson only through corporate ties.
This set the stage for the "all Canadian" Gotfredson truck. Realizing that the business should and could be saved, Canadian executives moved to buy the company from U.S. Gotfredson interests. Apparently that's just what happened, too. In 1929 the Gotfredson Truck Corp. Ltd. became Truck & Parts Ltd., a Canadian-owned company.
Buildings and premises went with the deal. Truck & Parts issued advertising stating that while the firm produced Gotfredson trucks, it had no interests or affiliations with any other company bearing the same name. Regular 1929 Gotfredson models were retained in production, though there were some changes later on.
Interestingly, in the midst of these negotiations, the Gotfredson Truck Corp. Ltd. got an order from Studebaker of Canada Ltd. to build and supply bodies for 1929 Canadian-built Studebakers and Erskines. Who filled the order, or if it was filled, isn't known. Presumably it would have been Truck & Parts as the successor to the Gotfredson Truck Corp. Ltd. Studebaker had its Canadian plant in Windsor/Walkerville, too.
Going back across the Detroit River, what happened to Wayne Body in the end isn't known. What is known is that the Gotfredson Corporation's Detroit plant closed out 1929 with an output of just under 200 trucks. And the receivership problems appear to have been overcome, too. There was a change in names as well. In 1932, the Gotfredson Corp. became the Robert Gotfredson Truck Co.
The company was still issuing truck specs in 1930 and there were a few new models as well. In 1931 the firm announced some light duty jobs with four or six cylinder engines and prices starting at a low (for Gotfredson) $975. Then too, more new jobs were added to the firm's lineup in 1932 with a range of three, five and seven tonners. All resembled earlier Gotfredsons as the aluminum radiator was retained.
Unfortunately, back in Canada, Truck & Parts Ltd. had just got itself all nicely reorganized when the Depression set in with the 1930s. The firm had managed to build around 100 Gotfredsons during all the confusion of 1929 and looked to 1930 for better times. But it wasn't to be, at least not for a few years.
Canadian Gotfredson output slipped badly in 1930 when only some 40-odd trucks were built, though this wasn't bad compared to Mack and White's bottoming sales in Canada then, Gotfredsons best year had been 1927 when some 400 trucks were produced. The Canadian truck demand wasn't large, but it was profitable; most of the sales went to customers in Ontario.
Gotfredson always had a firm grip on the Canadian market and its trucks were very popular across the Dominion. The firm operated six or seven big branches in major Canadian cities, though this network of sales outlets was paired down somewhat with the Depression. Big Canadian brewers and oil companies liked Gotfredson's looks and the handsome aluminum radiator. So did department stores who bought many one-ton Gotfredson "Speed Trucks" in the 1920s, though the firm dropped these lighter units in 1929 or 1930.
---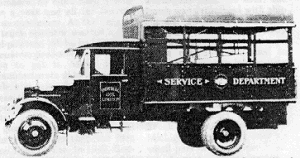 Canadian prestige fleets like the oil companies liked Gotfredsons. Here's a 1927 Model 66 with a nice new body by Toronto's Smith Bros. Motor Bodies, though it's a Gotfredson cab. Close-fitting front fenders, the cast aluminum radiator and step plate running boards added to Gotfredson's good looks. Canada's largest -- Imperial Oil -- owned it.
---
Busses and fire trucks were profitable as well. Gotfredson busses were numerous, and there were few Canadian cities that didn't claim Gotfredson-Bickle trucks in their fire department. Bickle was a Canadian producer of fire apparatus and the firm used Gotfredson chassis for many years.
---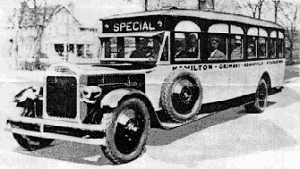 Canadian bus operators liked Gotfredson's drop frame Model 50-B-29 bus chassis. Fancy Woodlites headlights were stock with deluxe bus chassis. The cast aluminum rad was highly polished. Gotfredson quoted on complete busses but had bodies built by specialists.
---
Gotfredson enjoyed some export sales, too, essentially to Great Britain. How many were sold isn't known, but the company did make an effort to develop a British market in 1928. And the Canadian Army had a few Gotfredsons as well, including an experimental tandem 6-wheeler using a Hendrickson bogie.
To indicate the interest Canadians had in Gotfredson, when Truck & Parts announced that it had taken over the Canadian production of these vehicles, several brewers and oil companies rushed to place orders for trucks demonstrating their regard for Gotfredsons and their faith in the new company. Gotfredson trucks had an added appeal in Canada now that they were "all Canadian". Of course, the fact that Buda engines, Brown-Lipe transmissions and Timken axles were imported didn't matter. The truck was seen as "more" Canadian than it had been, though this was impossible technically.
Truck & Parts got another big order for automobile bodies in 1931 with the announcement that it had a contract for 850 bodies to be supplied to an unspecified car manufacturer. The order called for bodies in batches of 100 "as warranted."
This is of interest, I think. As the Depression deepened the Canadian government raised the import duty on American-built cars. The idea was to generate more employment through Canadian assembly and manufacturing operations. Almost overnight, Packard, Hupmobile, Studebaker, Graham-Paige and one or two other firms took steps to either launch or widen Canadian assembly plant operations in the Windsor/Walkerville area. The move generated some new business for Canadian bodybuilders, at least until the market for new cars and trucks almost vanished in the depths of the Depression. For instance, Hupmobile's Canadian sales fell off to only 500-odd cars in 1931, so who needed bodies "in batches of 100?"
There was another switch in names by 1932. Truck & Parts becoming Gotfredson Trucks Ltd. Sales dipped sharply that year to only 30-odd trucks; by comparison, White sold around 70 units; while International -- always a big volume seller -- had to be content with sales of a paltry 500-odd trucks.
Gotfredson introduced a new six-ton tandem in 1932, certainly a novelty for the times. The job used a very early version of the Thornton tandem. This would be a very popular bogie in a few years for the conversion of Fords and Chevys to tandems or six-wheelers. But Gotfredson had it first. The company sent the new unit on a 2,500 mile jaunt around Eastern Canada to drum up sales. It was also demonstrated to the Canadian Army, but without success.
The penny-pinched Canadian Army was buying a few new trucks around then, though one can't imagine where the funds came from with Depression budgets. In any event, the Army needed some trucks. But instead of Gotfredsons -- or GMC tandems for that matter, since GMC was hot after the same order -- the Canadian Army bought British-built Leyland six-wheelers.
It is not known how many Gotfredson tandems were built in 1932 (perhaps into 1934). Shell Oil bought a few. They were good looking units with such advanced features as veed, two-piece windshields and "streamlined," or at least, rounded and somewhat curved cabs. Specs were the same as ever, typically Buda Engines, Timken axles and Brown-Lipe transmissions. For all of this, the trucks still carried big polished aluminum radiators.
Gotfredson Trucks Ltd. of Canada made a surprising move in 1933. The firm took on the distribution of Diamond T trucks for Eastern Canada, while plans were advanced for Canadian assembly as well. This didn't develop, although Gotfredson branches promptly offered Diamond T's. It couldn't have been overly profitable; less than 20 Diamond T's were sold in Eastern Canada in 1933.
Gotfredson stated that Diamond T would be handled in addition to the production of its own trucks. Available data indicates that 13 trucks were sold during the first five months of 1933 and more may have been built as the firm still listed itself as a truck manufacturer in annual reports as late as 1935. It seems unlikely that these would have been old or unsold trucks as Gotfredsons in the 1930's were custom-built and no longer a production job.
Around 1934, Gotfredson received some large contracts from the Ford Motor Co. of Canada Ltd. for truck cabs, also for a variety of stake and rack bodies. Later the firm was asked to trim and finish convertible coupe bodies for Ford, and also build station wagon bodies, it's believed.
Gotfredson's links with Ford of Canada were certainly very close and the firm was identified within Ford as being capable of doing anything that Ford didn't care to undertake in its own plants. Apparently Gotfredson also produced packing cases and crates needed to export Ford cars and trucks to world markets. In 1938 Gotfredson Trucks Ltd. took on yet another new name, now Gotfredson Ltd.
What happened after really isn't part of our story as it doesn't concern trucks and an earlier era. Essentially, Gotfredson flourished on Ford subcontracts for a variety of needs. In particular, the firm supplied Ford with thousands of cabs and bodies for military vehicles during the war years. Then after the war it was back to Ford cabs and truck bodies, also convertibles. And by then Gotfredson Ltd. had expanded into Studebaker of Canada's old Windsor assembly plant.
By the 1960's, all traces of Gotfredson Ltd., Windsor, had disappeared when Ford purchased the buildings and property to merge with its own. But vestiges of Gotfredson Ltd. survived elsewhere and well into the 1970's, only to be acquired by American Motors of Canada Ltd. as A.M.C.'s upholstery and trim plant. What was happening in Detroit during all the shifts and the changes that marked Canadian Gotfredson? The Robert Gotfredson Truck Co. survived the worst years of the crash and never did shut down completely, though activity was certainly at a low ebb at times. A few trucks were built, never more than in ones and twos.
In 1932 or 1933 the firm made an advantageous move by acquiring the Michigan distribution rights for Cummins diesel engines. A new subsidiary was formed, Diesel Sales of Michigan. A service depot was set up in the Gratiot Avenue plant, functioning along side what truck production there was.
As legend has it, the company had trouble in getting the payments for some of the trucks sold in the Depression to transport operators. In one instance Gotfredson had to take over and run a firm to get its money. The truck line prospered, so Gotfredson bought a few more to build up a network of connecting routes in Michigan, Ohio and Pennsylvania.
This laid the foundation for Transamerican Freight Lines. By the mid-1930s the firm was one of the largest transport companies in the Eastern United States. The early saw many Gotfredson trucks entering Transamerican service, since the latter was an affiliate. And they were diesel-powered, too, with Cummins engines supplied through the other affiliate, Diesel Sales of Michigan. Some of the earliest diesel-powered trucks on American roads were Gotfredsons.
These trucks were needed in some numbers during Transamerican's formative years, namely 1932 and 1933 when Gotfredsons were supplied in batches of 10 and 20 trucks at a time. Some of these jobs used the traditional Gotfredson cast aluminum radiator, while other employed plated and slightly veed radiator shells.
In 1936, Gotfredson adopted GMC cabs for its trucks. These were ultra custom heavy duty vehicles produced in very small numbers, no more than five or six a year and all for Detroit area customers. At the time, if a truck operator wanted a diesel-powered job, he had to go to a custom producer like Gotfredson to get it. Major truck manufacturers didn't build diesels and left what little business there was in this line to specialty and custom truck outfits.
---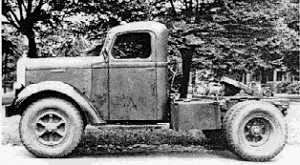 Rare factory photo of a 1936 Detroit-built Gotfredson. That's a GMC cab, so are the fenders, and there's a Cummins diesel under the hood. Picture taken before it was painted. Gotfredson clung to the cast "ally" rad right to the end of production. These were heavy, heavy-duty jobs, no fooling.
---
Gotfredsons were big trucks then, far larger than the firm had built earlier. In 1940, Gotfredson's RW146 was offered in gross combination weights up to 100,000 pounds. The job was powered by a 150 hp Cummins HB-600, used in conjunction with a 5 speed Brown-Lipe transmission and a Timken worm-gear axle. As ever, the frame was assembled with ship channel side rails, in fact premium nickel steel. Drive was by radius rods.
---
Detroit-based Borden's operated this big custom Gotfredson in 1936. It's a Cummins powered job, has the big cast aluminum rad, also a GMC cab. If anyone build custom units Gotfredson did, no doubt about it.
---
The company continued to build these custom jobs in very small quantities until 1946 when production ended, though it's believed a few were built afterwards, too. And as of 1946, the Robert Gotfredson Truck Co. and Diesel Sales of Michigan occupied only a small part of the former Gratiot Avenue "horse market." The emphasis had changed as well -- now it was on Cummins engines, not the trucks that had carried the "Big G" for so many years on both sides of the border.
~ 1977 article from Best of Old Cars newspaper (now out of print); published by Krause Publications, Inc. ~